---
Thanks for showing an interest in my online classes, these really are about you, please contact me to let me know what you would like out of them.
Monday 7pm This will be a demonstration of various themes, ask if you would like me to demonstrate a particular subject.
Tuesday 10.30am This will be an online class, you can paint the photo from the demo or you may paint your own project. The idea is you paint, you can ask me for help and advice during the class. It would be good if you can hold up your painting to your camera to show me when asking for help. Anyone who has technical challenges contact me and I will be happy to arrange a one to one session to try to resolve any issues.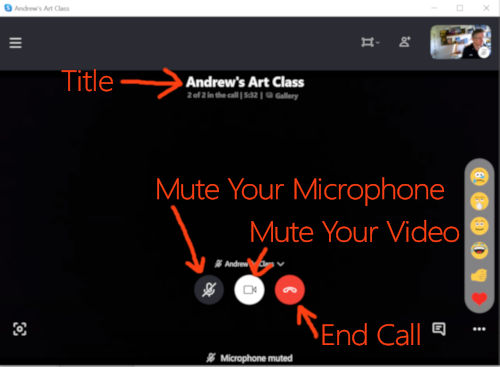 To participate all you have to do is click on the link below to join or the link in the email I sent. It will take you to a Skype call. Then press the (Join Call) button. (you don't need a Skype account, you can join as a guest). If you have a mobile device it will ask you to download the app, best to do this before the event. When you join mute your video. See the picture (touch/click the screen to see these buttons). Once in the Skype call make sure the title of the call is Andrew's Art Class if not leave that call and rejoin using the link.
I will post the link here 10 to 15 minutes before the start time.
Link to the Demo will go here
The demonstration should last about 2 hours. Please ask questions and comment, the idea is this should be an interactive session.
Some of you have said they would be happy to pay for online classes and demos. If you would like to leave me a tip you can follow the "Buy me a coffee"
Buy me a coffee